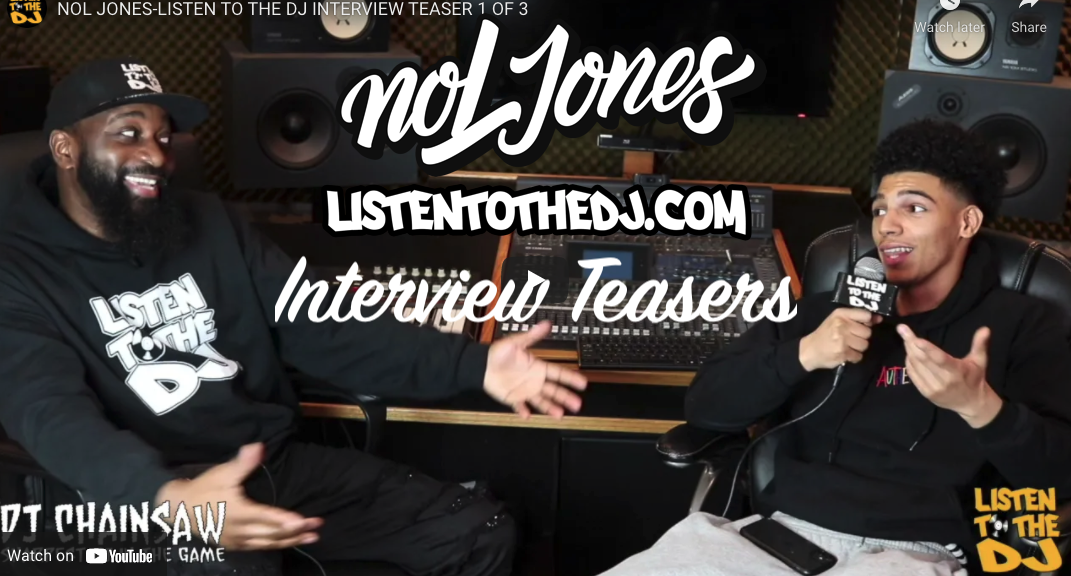 TEASER 1
Hey Listeners,
We have the highly anticipated LISTEN TO THE DJ interview with New Jersey Hip Hop Artist & Producer NOL JONES on the way conducted by Dj Chainsaw. In the meantime watch & LISTEN to the 1st TEASER! The biggest blogger in the world, ITS BIZKIT sets off the intro with some kind words.
DJ GULLY had a chance to LISTEN to some tracks from NJ's "Authentic" Project while in Vegas and said "it's fiyahh"
DJ Chainsaw stamps NoL as "The Hottest Artist outta New Jersey"
-No L talks about his 1st rap name.
-No L roasts the Host Son's name.
-Dj Chainsaw touches on playing & promoting wack & trap music.
-NoL talks about how often he makes music.
-Chain tries to pin point NoL's genre of music without putting him in a box.
-Chain asks NoL if he's a gangsta?
Mystere Vision Artist NoL Jones is Emerging musician out of central jersey making amazing music that most people don't make anymore. Growing up he was always around music, his father was a rapper/producer very involved in the music industry. His father met his mother with the help of eminem's tour manager (to be) & then noL was born.
He started out making beats with a close friend in 2015, inspired by people such as J Dilla, Madlib & 9th wonder. This eventually led to him writing his first rap, which then led to him writing a verse every single day.
He focused on production for the whole summer of 2016, making 1,000+ finished hip hop beats with his own energy & inspiration while mastering his signature trap sound. His versatility allows him to bring you back with vivid storytelling & unique wordplay, while his uptempo music is undeniably good compared to mainstream records. The mix of quality instrumentals & supreme lyrics is helping him take New Jersey by storm.
Shot & Chopped: Chainsaw for Listen to the DJ LLC
Camera Operator: MJ
Lighting: Deezal Beats
Intro: Briggette Scott  
TEASER 2
"The DJ on some trash sh!t" This Artist from NJ is disrespectful, but his music ???? tho ????
Hey Listeners, We have TEASER#2 from the Hip Hop Artist & Producer NOL JONES LISTEN TO THE DJ interview where he encourages listeners to check out his new record & forthcoming video for "The Formula" powered by Mystere Vision! No-L also gives his opinion on some DJ's & elaborates on "Exclusives"
TEASER 3
Hey Listeners,
We're back with the 3rd & final Listen To The DJ interview teaser with Hip Hop Artist & Producer NOL JONES before we drop the highly anticipated full interview! "Big Draco" sets things off by shouting out No-L.
NoL makes the bold statement of "Listen to my music my ???? ????" NoL then states that at the beginning of his Artist journey he was "ass" ????
Dj Chainsaw puts NoL on the spot & asks him to Freestyle & then gives his honest feedback. Mystere Vision providing exclusive behind the scenes studio session of Nol Jones recording "Greedy" & going 10 for 10!
Chain was surprised to find out that NoL produces alot of his own records. NoL gives his opinion on DJ's dropping a bomb ???? sound effect on records versus a blog post. NoL talks about his 1st song "Animal Ambition" gaining alot of attention. (Our ???? mascot "Annoyed Lloyd" makes an appearance) Chain asks NoL about Kanye West.
The interview then asks NoL about the "Swimming with the ????????" bar he rapped on the "Code Black" record.
Long live Deezal Beats!