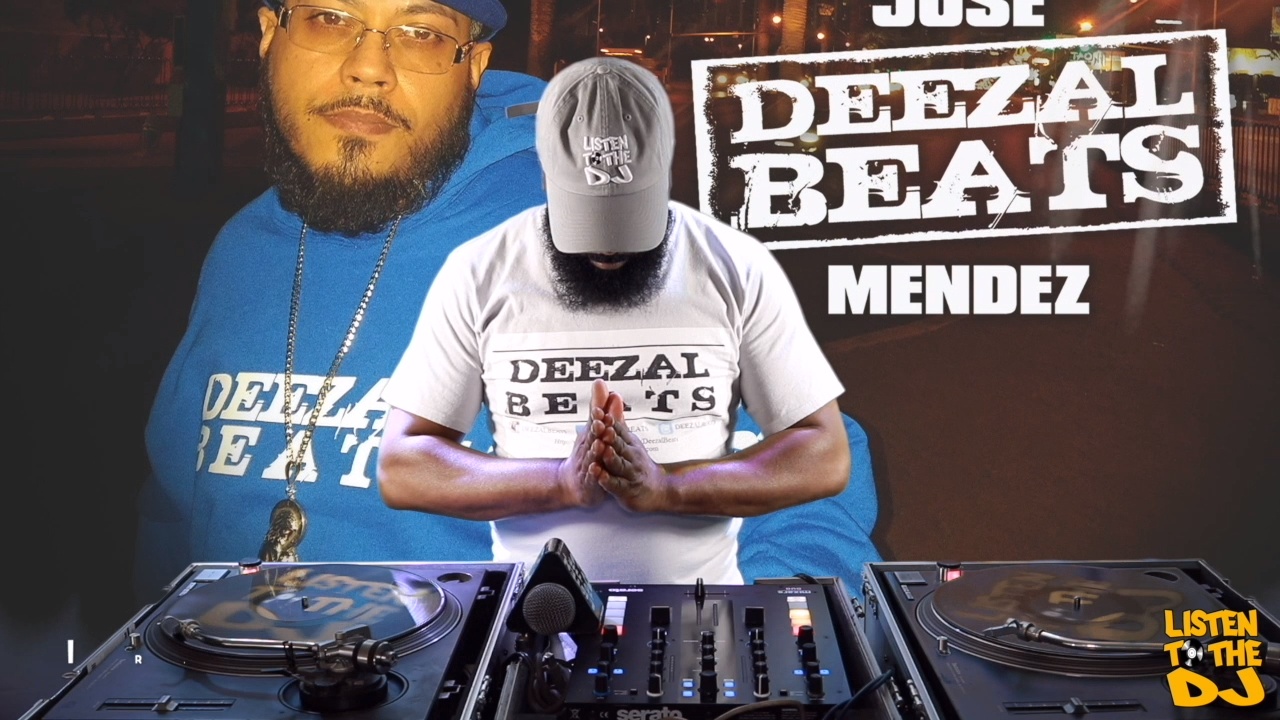 Hey Listeners,
As many of you all know & for those that don't know, we suffered an unexpected + tremendous loss May 9th last year of our beloved friend & VP Jose "Deezal Beats" Mendez. Joey's family thanks everyone during this difficult time for all the help & support. Jose was intelligent, witty, humorous, selfless, assertive, charismatic, loyal, multi talented, versatile, handy & had many more great qualities that will be greatly missed by all.
He wore many hats during his Vice President tenure with Listen to the DJ. We often referred to him as the "pedals" of the Listen to the DJ "bicycle" because he pushed & put his muscle into marketing & promoting the brand. Our company is the "bicycle" and all the staff members together has a part to play to make the bicycle function & balance. He encouraged us all to learn each others job/function so we can still be in motion with limited parts and or members, unknowingly preparing us for unfortunate times like this.
Whether it was making executive decisions, filming events, interviewing artists, documenting our travels, talent scouting, producing music, graphic designing, manufacturing apparel, trouble shooting technical & mechanical issues he did everything with passion & to the best of his ability. He covered a lot of ground & made an enormous impact during the time he spent with us.
He loved his family, friends & music, especially Hip Hop, Reggae & EDM. He enjoyed going on traveling adventures, executing assignments & connecting with clients on the west coast, in the midwest & down south.
We put together this memorial tribute to give you all a peek of a few missions we went on. Dj Chainsaw sets things off with the intro. Deezal produced the opening heartfelt track "Letter To My Mother". The track features his beloved Mother that passed away a few years earlier. He then reports live from the Hollywood Sign in Los Angeles, California with his good friend & Listen to the DJ team member Dj Chainsaw. Next Deezal Beats links up with Celebrity DJ, Radio Personality, Host & Producer DJ Whoo kid in Mt Pocono, PA at Mt Airy.
They then trek out West to Temple Bar Marina, Arizona to film a segment. Immediately following that they head out to the Hoover Dam to check out the tourist attraction & film additional segments. The next scene takes place on the aircraft where Deezal gives us a brief commentary on his surroundings. Next stop is to Chain & Deezal's old stomping grounds of Atlanta, Georgia to cover an Artist Showcase & interview.
The next scene takes place further south with Deezal literally waving the Listen to the DJ flag to cover a EDM Festival in Orlando & to link up with friends in the surrounding areas. Next you can see a few photos of Deezal with his celebrity friends. Dj Chainsaw then gives his synopsis of the Music Festival they attended. In the next scene Dj Chainsaw gives his "Chain Reaction" on the way to his flight with Deezal. Deezal then fly's out to the windy city of Chicago, Illinois for a brief meeting. The dynamic duo then head to Los Angeles to cover a movie premiere & to pay respects to the late great Nipsey Hussle.
They start the journey to Las Vegas to go to an Event, check out some smoke shops & to film a few segments. Next Deezal drives through the Las Vegas Strip testing out the power on the newest Mustang Gt. Chainsaw & Deezal then heads to NYC to attend team member DJ Gully's annual Green & White Birthday Bashment. After that they head to a major battle rap event & link up with a few Hip Hop Artists. Deezal stops by the Barclays Center to speak about our mission statement. In the next scene a few celebrity clients + friends give Deezal shoutouts & condolences. For the final scene, Dj Chainsaw spins Deezal Beat's  prophetic freestyle over Drake's "Find Your Love"
In loving memory of Son, Brother, Uncle, Nephew, Cousin & Friend.
"Listen to the DJ" Media platform for DJ's, Artists, Apparel, Interviews, News, Reviews & Playlists. The DJ is the respected Taste maker of the Music Industry & Urban Culture. DJ's are at the helm of the thriving EDM, Hip Hop, Reggae & Pop Music Genres. According to Hip Hop music industry standards the DJ dictates & delegates what's hot or not.
Follow us on our journey while we document our travels interviewing, reviewing DJ's, Recording Artists & Listeners across the Globe! Don't forget without the DJ, there would be no party or Hip Hop! "Listen to the DJ" it's a direct command!
Shot & Chopped by: Chainsaw for Listen to the DJ LLC
Additional Videography by: Joey Mendez
Music: Produced by Deezal Beats