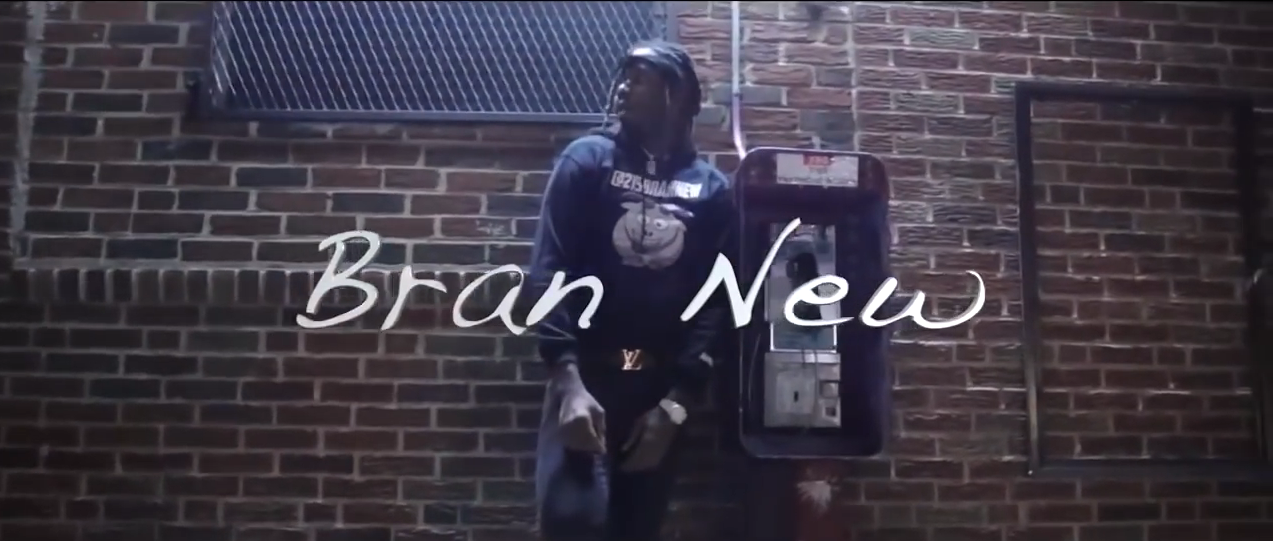 DJ Chainsaw of Listentothedj.com gives his "Chain Reaction" for Bran New's record "Make It Out" The Philly, PA RnB Singer & Songwriter paints the picture for Listeners to his trials and tribulations then explains how he would navigate around the obstacles!
BIO: The music industry is always looking for a fresh sound from an artist that has the ability to change the landscape of music. Every now and then it is time for something refreshing and brand new. Coming in the game with his own sound and unique style is rising star Bran New. Coming from the streets of West Philadelphia, Brandon Lambert known as Bran New made the decision to pursue a career in music as he felt he had something special and wanted the world to hear it. Bran New explains how music was such a passion where he would constantly write his thoughts on paper and he knew that eventually he wanted to record. He explains how music was always an escape as well "I reached a low point in my life were listening to and writing music was my only outlet, it was an escape".
Bran New has had a rough upbringing growing up in Philadelphia as well. Many know the crack-cocaine epidemic was at an all time high in the early 90's and Bran New's mother Gina Lambert whom he loved dearly had a bad addiction. He goes into detail "My mom wanted to feed her body with it by any means necessary. It was 6 of us with 2 girls and 4 boys and we all have different fathers and some of us don't even know who they are". Not letting this get him down, Bran New used music as a way of relief, but hard times really hit when his mother was murdered by a police officer who even committed suicide himself and her body was found in an abandoned building. "I was an infant when this happened, and it was rough for my brothers and sisters, but we fought strong". Things got more difficult as Bran New also did a jail stint for a shooting and was hit with a 3-6 year sentence, he admits that he is glad that he is off the streets and how prison was a wake up call. It was a blessing for this talented singer as he felt, if he was still locked up, his journey of being a big artist would not be pursued, it was a blessing in disguise.
Bran New is special because he found his lane and proud to show fans what he has to offer in music. His work ethic is second to none where he can write as many as 3 songs per day and takes huge pride on being a songwriter. He is highly influenced by Al Green, Michael Jackson, Teddy Pendergrass along with Dorothy Norwood but likes the present too with Lloyd, Ne-Yo, Justin Bieber and Trey Songz. While he admits he is in the Trap Soul/R&B lane he can crossover and make pop records as well. He aims to be very realistic in his music with great tunes on life, love, hardship and motivation. While he is currently an independent artist, Bran New explains his overall goals "I'm moving heavy as an indie, but at the same time if a major comes along and it makes sense then we can talk business".
Right now he has new music out with "Lunch Hour" along with other records such as "Find a Way" and "You Would Never Know". Bran New states "Yes the singles are helping with my fanbase and that's what I'm dropping now and look forward soon to my EP that will be titled "Brandon to Bran New". The origin of his name come from him just doing a complete 360 and opening a new chapter in his life as he continues "The name Bran New comes from the past and the present. The man I was before was a guy who didn't really know himself and didn't really know what he wanted to do with his life. Bran New is a new chapter, a new person, a new life. It's a journey that my fans will be able to see me take. Bran New is the movement and Bran New represents TDK which stands for The Dream Keeper which is a message to not give up and keep going. Bran New is ready to present his artistry and music fans definitely should get ready for something Bran New.
https://music.apple.com/us/album/bran-new-lunch-hour-single/1322180734
Dj Chainsaw on behalf of Djchainsaw.com
Shot & Chopped by Chainsaw
Disclaimer: The views and opinions expressed in this article/video are those of the authors and do not necessarily reflect the official policy or position of any agency of Listen to the DJ LLC
"Listen to the DJ" Media platform for DJ's, Artists, Apparel, Interviews, News, Reviews & Playlists.